Are you looking for a place to stay in Denver for an upcoming vacation?
Or maybe you are thinking about moving to the second-best place to live in the United States (Boulder, CO was ranked #1).
Whatever your motive for staying in Denver, this guide will give you 5 of the best neighborhoods to explore.
The city prides itself of its variety of eclectic neighborhoods, each of which deliver their own unique feel and energy.
Ready to discover the top places to stay in Denver?
Let's dive right in!
1. Park Hill
Average Sold Price (North Park Hill): $469,000
Average Sold Price (South Park Hill): $918,000
Greater Park Hill is divided into two distinct neighborhoods, South Park Hill and North Park Hill.
These two neighborhoods are ranked the #1 and #2 neighborhoods in Denver, and for good reason.
Park Hill prides itself on sustainability, diversity, and nightlife. Packed with trees, Park Hill gives off a suburban feel without sacrificing the energy of the city, allowing for its residents and visitors to walk or use the many bike lanes to discover all of the neighborhood's great attractions.
Whether you are looking for fine dining at local favorite Tables or activities for the whole family such as The Denver Zoo, The Denver Museum of Nature and Science, and City Park, Park Hill is overflowing with options!
Also be sure to check out the newly renovated City Park Golf Course, where you can enjoy 18 holes of golf with a cityscape backdrop.
With all these great amenities, it's no wonder we've ranked Park Hill as the top place to stay in Denver!
2. Uptown
Average Sold Price: $529,000
The locals call it Uptown, but it's also known as North Capitol Hill.
Capitol Hill is one of the most historic neighborhoods in Denver, known for its vibrant nightlife, diversity, and LGBT community.
In Uptown, you'll find yourself in the heart of Denver surrounded by young people from all different walks of life. A mishmash of history and modern living, this neighborhood's character comes from Denver standbys, brick rowhouses, and picturesque churches.
Add in modern developments like trendy eateries, upscale condos, and patios on almost every corner to take advantage of the ever-sunny Denver weather, and you've got a neighborhood with an awesome personality all its own.
Looking for a little funk? Uptown is home to some of Denver's most famous music venues in The Fillmore Auditorium and Ogden Theatre.
It's also got a flourishing arts culture, with tons of murals and art galleries speckling every block. If you're looking for a hip place to stay in Denver, Uptown will funk you up!
3. Wash Park
Average Sold Price: $1.13 million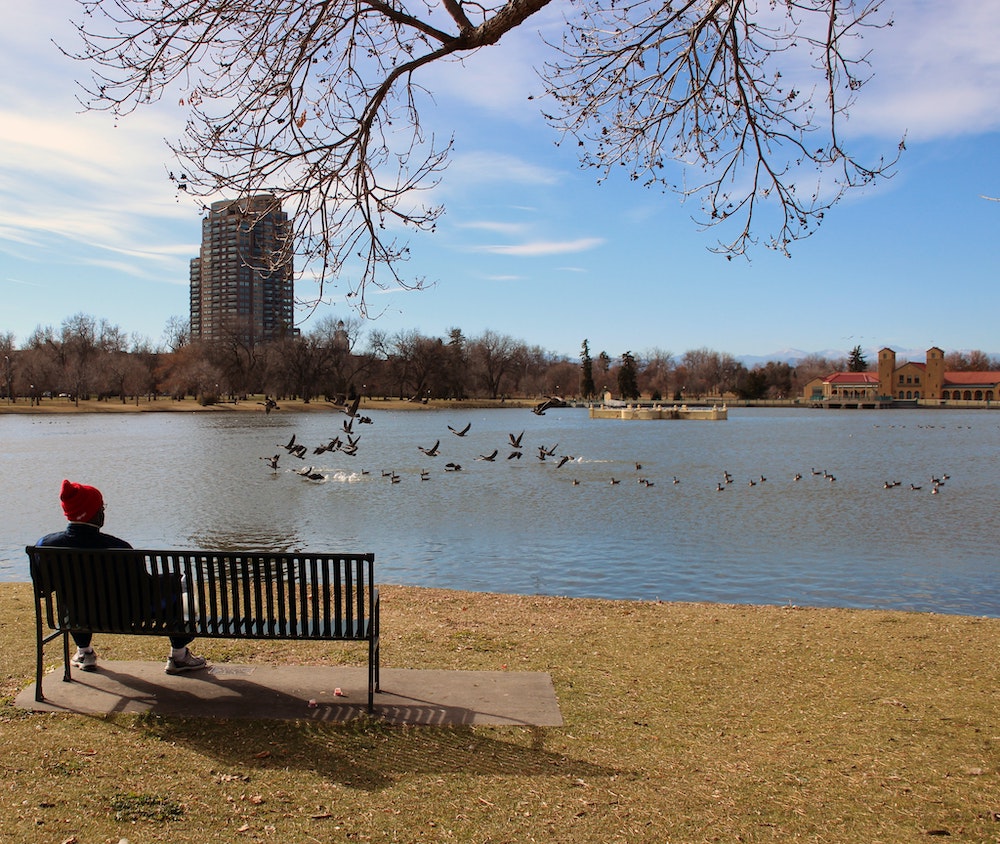 Locals might roll their eyes at this one a little bit, as Washington Park has always been one of the most desirable places to live and visit in Denver. In other words — we're not reporting breaking news here.
Still — it doesn't change the fact that the Wash Park neighborhood offers some of the best vibes in all of Denver.
Centering around Denver's famed Washington Park, the neighborhood is alive with coffee shops, foot soldiers, and a quaint residential setting that is just a 10 minute drive downtown.
The Bonnie Brae section of Wash Park is your one-stop-shop for everything from World Famous Ice Cream, to taverns and bars, to local food joints that will blow you away.
Wash Park has been and always will be one of the best places to stay in Denver. No matter where you choose to settle down, you're going to find yourself in the Wash Park area at some point. There's just so many awesome offerings to go around!
4. Sloans Lake
Average Sold Price: $805,000
Sloans Lake is one of the leading neighborhoods for the cultural revolution taking place in Denver.
Once a forgotten section of West Denver, Sloans Lake has been growing like a rapid-fire in recent years, attracting every demographic with new shops and restaurants.
And the best part? It's still very affordable.
Head out for a day spent on the lake, or get some of the best breakfast in all of Denver at Rise & Shine. With new, hip places popping up every day, you can see the growth happen right before your eyes!
And if you're a football fan, Sloan's Lake grants some of the best access to Empower Field at Mile High, home to the Denver Broncos.
One thing is for sure if you choose Sloans Lake as your desired place to stay in Denver: you'll never run out of things to do!
5. LoHi / Highlands
Average Sold Price: $802,000
Originally known as Northside, the LoHi / Highlands neighborhood of North Denver is seeing massive growth unlike anywhere in the city, with average home price consistently rising year-over-year.
The Highlands represents 'New Denver,' which gives off more of a Los Angeles feel. But make no mistake — it's still got great people and local businesses — making it one of the top places to stay in Denver.
Walkable and filled with brunch spots and nightlife, gathering places like Happy Camper exemplify the next wave of life in the Mile High City.
Cruise around this neighborhood on an electric scooter or bike, or peruse all the entertainment options on foot. One thing is for sure — you won't need a car to enjoy this Denver hotspot!
What Place Will You Stay in Denver?
Whether you're looking for a permanent home or just visiting Denver, these 5 iconic neighborhoods should be at the top of your list.
When it comes to Denver, the opportunities for exploration never stop. With great weather, tons of parks, diverse culture, and lots of nightlife, there's never a dull moment in Denver.
Looking for more help deciding which place to stay in Denver? Give us a call or shoot us an email today! We'd love to help you out.
Here's to Denver!
By: Jack Berning